Establish the deal landscape
14 December 2016 | Admin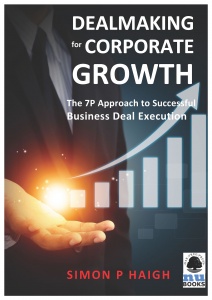 From a corporate perspective, direction-setting in relation to a deal – whether merger and acquisition, take-over or otherwise – is essential. Different industries, company categories, sizes, business models and so on all require distinct and customized approaches.
Nonetheless, you must be clear on:
Who you are dealing with;
What is the basis for the deal;
What are the main issues;
What are the possible outcomes;
What could go right or wrong throughout the process;
What risks might arise – and when;
What information you have and what is missing.
Success in dealmaking all comes down to preparation and planning.
Extracted from
DEALMAKING FOR CORPORATE GROWTH: THE 7 P APPROACH TO SUCCESSFUL DEAL EXECUTION
by
Simon Haigh
, #54 in the
NuBooks
series.