Oak Tree Press joins international publisher, Corporate Group
25 March 2023 | Admin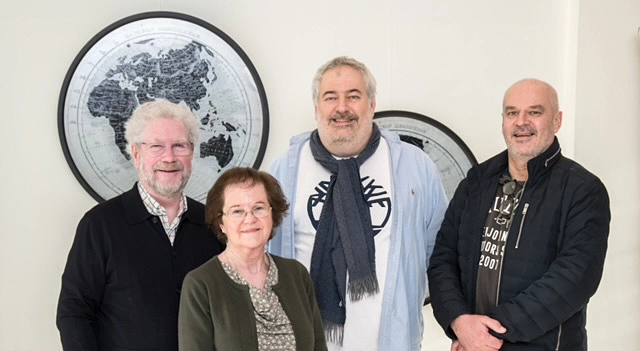 Cork Publishing Ltd (Cork – Ireland), the parent company of Oak Tree Press, has been acquired by JMB Verlag (Bulle – Switzerland) and is now part of the Corporate Group, an international publishing entity operating in three countries (Belgium, Switzerland and Ireland) and five languages (English, French, German, Dutch and Italian). The value of the transaction has not been disclosed.
Pictured above following the acquisition are Brian & Rita O'Kane (OAK TREE PRESS), Axel Neefs and Pierre Delroisse (CORPORATE GROUP).
Corporate Group's catalogue extends to more than 500 titles, most of them annually updated for all professionals in specific entrepreneurial domains such as business, law, tax, contracts and other company subjects. The group also offers accountancy and investment management software solutions.
Corporate Group's team of 20 people work with solid distribution partners in their local markets, in addition to direct sales of 50,000+ books, guides and software annually through professional websites across Europe.
Brian O'Kane, founder of Oak Tree Press, said:
"Oak Tree Press's reputation in the Irish market and abroad has been built over the past 30 years through the dedication of our authors, publishing team and suppliers, as well as through the support of our customers – individual, organisational and trade. Corporate Group is an excellent fit for Oak Tree Press and offers new opportunities for our titles and authors. I am excited for the future development of the business and look forward to working as part of a wider international team."
Axel Neefs and Pierre Delroisse, Belgian founders of the Corporate Group, said:
"We are delighted to add this Irish gem to our publishing crown. We are convinced that the many titles developed by Brian and Rita over the last 30 years and the licensing contracts initiated across the world (USA, Korea, India, Australia, Greece and the UK) represent an open door to diversity and development of both catalogues."