Advice from world-leading hoteliers
12 July 2016 | Admin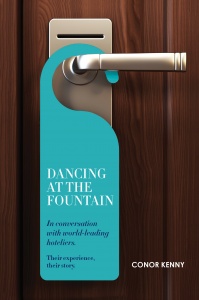 Snippets of advice from the hoteliers interviewed in Conor Kenny's DANCING AT THE FOUNTAIN:
Being around the lobby is so important … it's where you get to meet the staff, where you get to know what's going on. You have to breathe your hotel and know what's going on. In an office on the fifth floor, you cannot know that.
Philippe Lebeouf, general manager, The Mandarin Oriental Hotel, Paris, formerly of Claridge's, London and the Hôtel de Crillon, Paris.
Invest your time in the top 20% of your staff, telling them what a great job they're doing and showing them how they could do it even better. Most managers spend most of their time worrying about or dealing with the bottom 10% of their performers. Investing that time in the top 20% would be like letting the genie out of the bottle.
Bernard Murphy, general manager, Gleneagles, Scotland.
What will evolve in the future, I believe, will be around the re-engineering of the execution of what we do. Take something as basic as the critical path of the guest's stay. We wrap it up into a pleasant arrival for you, a nice smile to make you feel at home, but we still need you to fill out this form …
Kiaran MacDonald, general manager, The Savoy Hotel, London.
How could you implement this advice in developing your own career as a GM?