Ask the right questions
23 November 2016 | Admin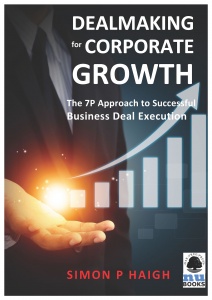 I cannot overstate the importance of taking your time to suitably frame your questions. Quality answers require quality questions. Poor questions almost always result in unclear, unhelpful, vague and time-wasting answers. Also, you will be amazed at how much confidential or sensitive information you can elicit from the other side – if you ask the right questions.
Face-to-face questioning also gives you the invaluable opportunity to pick up on the hints, gestures, suggestions and other subtleties that accompany the response. After all, the whole point of asking questions is to help you explore and frame your "deal zone" (see below) for the deal and, in the process, to find out what the other side needs and wants.
Extracted from DEALMAKING FOR CORPORATE GROWTH: THE 7 P APPROACH TO SUCCESSFUL DEAL EXECUTION by Simon Haigh, #54 in the NuBooks series.