Bernard Murphy: My Advice
30 August 2016 | Admin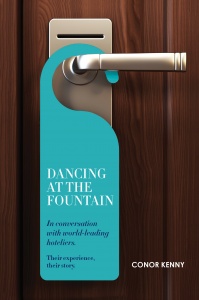 Bernard Murphy, managing director at Gleneagles, Scotland, gives this advice:
To someone already in the business aspiring to get to the very top, I'd say, "Don't look for shortcuts. You've just got to make more impact than the next guy". If you really want to get to the top, there's a lot of hotels and in our industry, certainly at unit level, if I can call it that rather unattractive term, endeavour is more often than not a match for academia. Hard work works. It takes a long time sometimes to understand that.
If things aren't going right, don't be afraid to move, you've got to be willing to change. I talk to youngsters about how I really admire the way some popstars re-invent themselves; they get themselves to a point of success and then throw it all away; they discard it and they start again.
There's a big thing in America that they call 'CX', an abbreviation for customer experience, and that's what I was doing in RBS. I believe we will continue to see this sector seeking to attract people out of the hotel business to deliver the service in these offices so that the very highly-paid people who drive investment banks and law firms actually get a great experience. Goldman Sachs and Clifford Chance, for example, have been doing this well and you are seeing it now elsewhere – that's an opportunity for hoteliers that perhaps have had enough of hotels.
To someone thinking of going into the hotel business, I'd urge them to think through what it's going to look like when they're at a different age and stage of life – for example, if they have a family what's it going to look like. I think hoteling can be a lot of fun, you work with some nice people, it's a job that going to be around so it's quite a good bet in that regard – customer experience, customer service, the consumer culture isn't going to go away. But make sure that you get into a bit of it where the people part is going to continue to be a part of what the customers want rather than a part that might just get taken out by technology.
Extracted from
DANCING AT THE FOUNTAIN: CONVERSATION WITH WORLD-LEADING HOTELIERS
by
Conor Kenny
.