Intellectual Property Workshop by our author John Mc Manus – 27 January 2015
14 January 2015 | Admin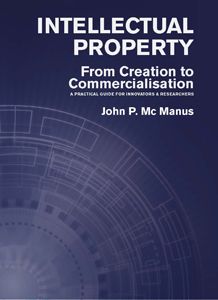 The author of Intellectual Property; From Creation to Commercialisation, and the accompanying eBook series, John P Mc Manus, will be facilitating a workshop in Citywest Hotel, Dublin on Tuesday 27 January 2015 from 9.00am to 4.30pm, entitled Intellectual Property.
This will be run by IRDG (Industry Research & Development Group). If you would like to attend the workshop please see here – places are filling up fast!
John has extensive experience in the development and delivery of training courses for postgraduate students, researchers, technology transfer managers and SMEs on the topics of IP management and exploitation of research and has presented at training workshops for the EPO's European Patent Academy. He was Group Intellectual Property Manager with the nanotechnology company NTERA Ltd and also held positions at Enterprise Ireland and NovaUCD.