More advice from world-leading hoteliers
17 July 2016 | Admin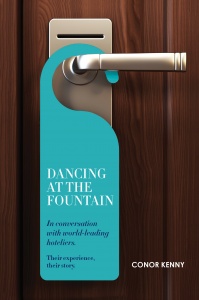 More snippets of advice from the hoteliers interviewed in Conor Kenny's DANCING AT THE FOUNTAIN:
I think success as a hotelier is about self-management. You have to be observant, you have to have lots of commonsense, you have to be able to weigh up the problem, the opportunity or whatever it is going on around you and then you have to make a decision about how you are going to react to that situation.
Michael Davern, general manager, The K Club, Kildare, formerly GM of Sandy Lane, Barbados and Fancourt, South Africa.
You cannot get inspired, if you stay only in your own hotel behind closed doors. For example, I am flying this weekend to go on a roadshow in the US, and we are planning to visit a new property in New York, which opened two months ago. I really want to see their service level, to see their marketing, to see how they are they using technology – just to see what's new.
Nathalie Seiler-Hayez, whose career spans not just The Connaught Hotel, London, but also the Hôtel du Louvre, Paris, the Hôtel Lutetia, Paris and Rosewood Hotels & Resorts.
How could you implement this advice in developing your own career as a GM?