Praise for TOMORROW | TODAY
21 September 2016 | Admin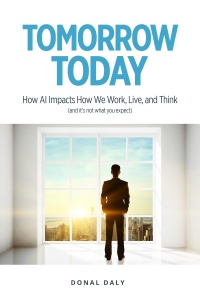 Praise for just-released book by Donal Daly, TOMORROW | TODAY
At Salesforce, we're making the journey to AI easy for our customers—and Altify's AI solutions, built on the Salesforce platform, are a great example of our ecosystem at work. TOMORROW | TODAY is a guide for that journey, full of practical insight and perspective. Todd Surdey, SVP, ISV and Channel Sales, Salesforce
With remarkable insight, TOMORROW | TODAY explains the profound technology and ethical impacts of AI on the future of sales, marketing and general business. Whether AI scares you or not, this thought provoking, but easily accessible, book will help you to predict how AI will impact your future. Mark Roberge, Senior Lecturer, Harvard Business School; former CRO, Hubspot
Artificial and Augmented Intelligence is rapidly changing the leverage points in our lives: personally and professionally. TOMORROW | TODAY does a masterful job of helping us understand the journey we are on and will help us plot a course to a more efficient future. Glenn Davis, Senior Vice President, Growth Execution and Client Engagement, Optum
A book full of insight and pragmatic thinking about what AI means for day-to-day workers. It's about the complete experience. When it comes to the right blend of humans and machines, TOMORROW | TODAY nails it. Nick Mehta, CEO, Gainsight
Searching for a competitive advantage and mindful of mass disruption, board rooms have rushed to AI as the next big thing. The investments in AI pilots have moved from science projects to new digital business models powered by smart services. As clearly explained in Donal's book, the unifying force for digital transformation in customer journeys, IoT, future of work, commerce, and block chain technology is AI-driven smart services. Reading this book will help you understand why the shift from analytical systems to augmented humanity will have a profound impact on the world. R "Ray" Wang, Principal Analyst and Founder, Constellation Research, Inc.
If history teaches one thing, it is that today's breathless technology headlines are tomorrow's punchlines. AI will change work, but not on its own. Ultimately organizations and people will change work as they incorporate AI into operations and strategy, and change processes to reflect these new tools. With deep insight into AI's interaction with professional work, Donal's book will help catalyze leading-edge thinking and serve as an impetus for innovative and practical business strategy. Tom Monahan, Chairman and CEO, CEB (NYSE: CEB)
Artificial Intelligence has been the subject of debate and discussion for many years. Now it is becoming a reality. Not only has Donal Daly managed to explain it but, with his thinking on Augmented Intelligence, has taken it to a practical level that takes it from debate to useful. AI is now part of our lives. I'd make this book part of yours. Paul Greenberg, author, CRM at the Speed of Light (4th edition), upcoming The Commonwealth of Self Interest (Harvard Business Publishing, 2017)
We have from day one believed that data and science are the keys to unlocking human potential. In a refreshingly clear manner, Donal captures the key trends and technology advances that are now actually enabling this in our day to day reality, as we enter the next era of technology-enabled performance, and TOMORROW | TODAY is a really good read. Dave Elkington, Founder and CEO, Insidesales.com
Applications leveraging Augmented Intelligence transform the way humans make complex business decisions within the enterprise. TOMORROW | TODAY contains fascinating real world examples and thought-provoking narratives around the symbiotic relationship between man and machine. A valuable read. Len Ferrington, Managing Director, Summit Partners
Donal is asking (and answering) the fundamental question: "As machines get smarter, will humans continue to grow and ask the important questions?" Artificial Intelligence is everywhere. If you want to understand what it means to you, you should read this book. Ciaran Dynes, VP Products, Talend
TOMORROW | TODAY is a witty, illuminating and very readable guide to the rather complex of world of Artificial and Augmented intelligence. In Donal Daly's hands the subject is brought into focus, with telling observations and informative insights. This is a concise, but immensely useful and enjoyable book for anyone interested in the direction of new technologies and new generations of users. Donald Farmer, Principal, TreeHive Strategy LLC
TOMORROW | TODAY is an outstanding investigation into how technology affects our workplace today and will influence how we work tomorrow. The narrative of the role Salesforce is playing in Augmented Intelligence is fascinating. Donal's book is informative, entertaining, straight to the point and a very important read for all sales and marketing professionals. Daniel P. Strunk, Managing Director, Center for Sales Leadership, DePaul University
What generative design is to the future of making things, Augmented Intelligence is the information currency for the future of selling things; Donal expertly guides us to explore, and ultimately embrace, the possibilities of AI where the human is at the center and Augmented Intelligence is the ultimate Executive Assistant. Julie Sokley, VP Global Sales Operations, Autodesk
TOMORROW | TODAY allows us to pause and think—a rare opportunity in today's noisy market. It draws our attention to how the new idea of 'augmenting intelligence' can help us go beyond just understanding data, to taking meaningful actions to improve our businesses, and ultimately, our lives. Umberto Milletti, CEO and Founder, InsideView
TOMORROW | TODAY took me on a wonderful journey of fascinating content and profound insight. Donal translates a difficult topic into valuable, connected and important questions. The book is visionary and a 'must read' for business leaders who care about the future of man and machine. Ingrid De Doncker, CEO, IDDConsult
The explosive growth of information gives rise to a fundamental truth: no human can process it all or should even try. Yet wise decisions must still be made in a world where Big Data is the new normal. That's why Donal Daly's new book is a 'must read' for leaders who wish to understand how computer-based intelligence can improve decision-making and perhaps even alter the competitive landscape. Highly recommended. Bob Thompson, Founder and CEO, CustomerThink Corp. and author, Hooked On Customers: The Five Habits of Legendary Customer-Centric Companies
AI has the power to augment decision-making, but the challenge remains of how it deals with future unknown conditions. For example, if an algorithm only recognizes male or female genders, how do you ensure a transgendered person doesn't get labeled as either male or female? Until we have a way to account for unknown future conditions, we won't have a way to prevent unintended bias in our calculations. Kristina Bergman, CEO and Founder, Integris Software Inc.
This book had me at "Stop making businesses more data focused; make data more business focused." Donal's incomparable view of how Data and AI should be serving me is inspiring. The machine is the assistant, not the overlord. TOMORROW | TODAY will be by my side moving forward. Maureen Blandford, CMO, Software Improvement Group
TOMORROW | TODAY: How AI Impacts How We Work, Live and Think (and it's not what you expect) by Donal Daly, CEO, Altify.