The adventure 4: San Francisco
4 October 2016 | Admin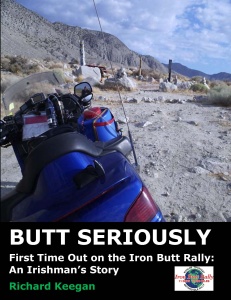 Downtown San Francisco is a very non-American place. It has the feel of a French or Italian town, with cafés and restaurants with tables set outside on the pathways. It is a city, all the same, and city riding applied – watch for everything, from every direction. It was while in downtown San Francisco that I had another of those 'only on the Iron Butt Rally' moments. As I made my way through the Bullitt set, I would see another long-distance bike cross my path at 90 degrees. Or come towards me going the opposite direction. Or pass me as I looked for the next bonus. Here were all these 'Open Road' bikes, caged and criss-crossing in the heart of one of America's major cities. It looked like a scene from The Keystone Cops.
As I zeroed in on Cupid's Arrow, I entered the main business centre of San Francisco. I was buried in a skyscraper zone. Caught in a canyon of buildings, narrow streets and congested traffic, I lost GPS contact. No problem, I was close to the bonus. "I can ask the locals", I thought. But, in a major city, it is often difficult to find anyone who knows where things are. I asked six people and none of them knew where Cupid's Arrow was. I moved towards a construction site to give the GPS a clear view of the sky. Yes, I was at the 'correct' location, or at least at the location we had inputted for the Arrow. Reading the instructions, it said to have a view of the Bay Bridge in the background. Of course, I wouldn't recognise the Bay Bridge if it fell on me, a poor pun in San Francisco, I know, but I had seen a huge bridge just before I turned into the canyon. I suppose I was tired but it had taken my brain some time to compute this simple fact.
Back on the bike, turn left and there it was. A huge arrow and bow with the bridge in the background. But where to park? Using the recently perfected 'Irish parking system', I was stopped on a double yellow line, flag out and photo taken in about a minute.
It was lunchtime at this stage and it was hot and sticky. I found a spot and pulled the bike up on the pathway and had something to eat and drink. This short break also let me re-organise myself. I had been going around in circles in San Francisco and needed to clear my head. There were three other bonuses in San Francisco that I needed but I was tempted just to head for the Bay Bridge and get out of town because of my frustration with city traffic and trying to find locations in the city. The short break helped me get my head straight again and I quickly organised my thoughts for the Palace of Fine Arts, the Golden Gate Bridge and Telegraph Hill.
The Palace was just a bonus shot but the Golden Gate Bridge was an experience. The bridge is huge. Huge. As I approached it, the traffic began to group up. The bridge has its own micro-climate. All around were crystal-blue skies, while a cloud clung to the uprights of the bridge. Strangely beautiful. The viewing point on the other side of the bridge was full of tourists when my bonus angel came to the rescue once again. As I pulled into the parking lot, a car pulled out, leaving me a perfect location for my photo of the bridge.
Photo captured, I headed out to get back to the mainland, only I took a wrong turn and ended up in the military base directly under the bridge. After much messing around and asking directions, I was back onto the bridge and, once again, bracing myself for the crosswinds. It is probably just a personal thing but I am not a great fan of high bridges with crosswinds.
Back on the mainland and heading for Telegraph Hill, it was clear how easy the San Francisco bonuses could have been if I had known the locale. I quickly passed the Palace on my way back into town. Ah well, I was not a local and it was my first time in San Francisco. I felt it was important to have spent some time there to soak up the atmosphere. That is my story and I intend sticking to it.
Telegraph Hill provides a fabulous view over San Francisco Bay. A statue of Christopher Columbus was the bonus and, after a quick look at Alcatraz prison and the Bay, I was back on Rally time. The sun was shining but the wind was blowing. How was I going to keep my flag while taking a photo of the statue? A European family were there, on holidays, German as it turned out. I asked them whether they would mind helping me by holding the flag. Immediately, the father offered to take my photo while I held the Rally flag myself. As I thanked him, he asked me whether I was one of those Iron Butt Rally guys? "Yes", I said. Oh, he had read about us, we eat and sleep on our bikes. I assured him that that we certainly did eat on our bikes but that we equally tried not to sleep on them. With big smiles and a "Thank you", I was gone. He had heard about the Iron Butt Rally on the Internet and here he was, on his holidays in San Francisco, meeting an Irish Rally participant. The world we live in is getting smaller by the day.
Extracted from BUTT SERIOUSLY: FIRST TIME OUT ON THE IRON BUTT RALLY: AN IRISHMAN'S STORY by Richard Keegan.